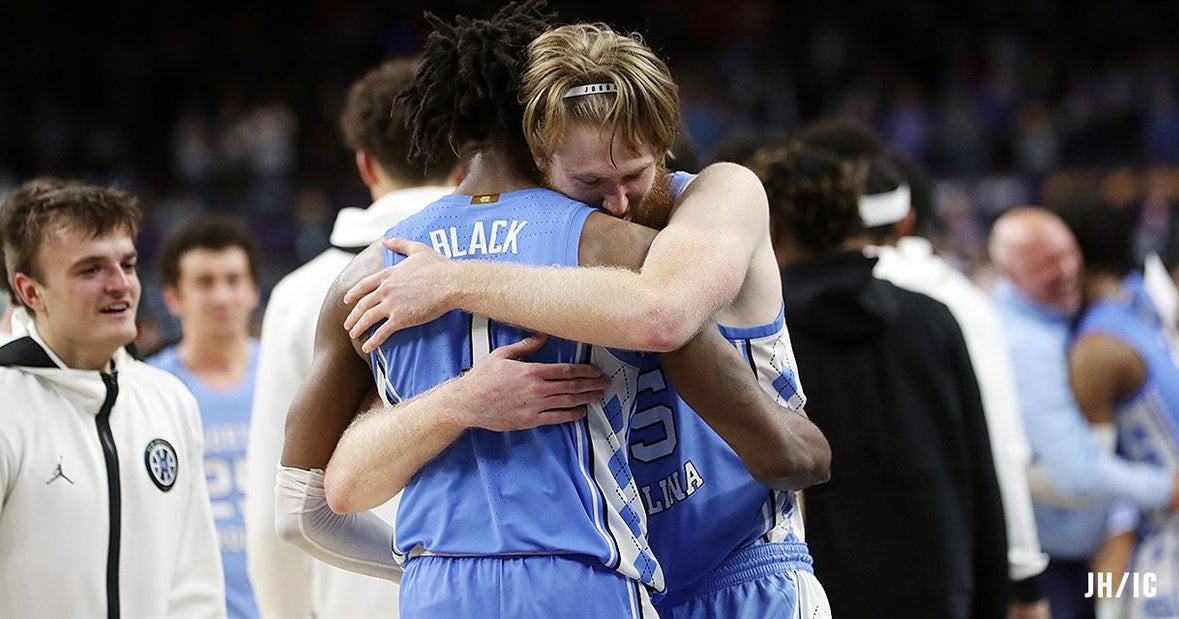 UNC's unlikely journey continues
NEW ORLEANS — On Saturday morning, not long after North Carolina had finished its team breakfast at the Sheraton Hotel on Canal Street, a small group of Tar Heels gathered for small talk. They had plenty of time since the Final Four tip was a lifetime away.
It was pretty much UNC's main rotation: RJ Davis, Caleb Love, Leaky Black, Brady Manek, Armando Bacot, Puff Johnson and Justin McKoy, among others. The conversation eventually settled on how this season began and the incredible journey that took it to this very spot, one block west of the French Quarter and three blocks southeast of famed Bourbon Street.
"We were just taking everything in and thinking about how many people are going to be at this game, all the media stuff that we're finally getting," Black said after UNC's 81-77 win over Duke in the Final Four on Saturday night. "It was just like that, see where we're from? How bad were we blown out on national TV and now we're in the championship? It's just crazy."
It was a cathartic experience that spoke out everything everyone had felt and known for so long. After the game, Bacot insisted that even as UNC suffered embarrassing losses to Tennessee, Kentucky, Wake Forest and Miami, he and his teammates never lost faith in their abilities. They were just unsure of the way forward. Saturday morning's therapy session addressed the complex development that has unfolded since pre-season training began.
"We just remembered how quickly the season went by, we remembered the times when we had big fights and we got on each other," Davis said. "The times when we had heavy losses, but then we regrouped as a team. So it was just about memories that we shared. We just sat down and we laughed about it and just visually went through each memory and talked about it. It was great."
Given how the first three months of the schedule went, UNC's season was a success with their victory at Cameron Indoor Stadium on March 5, followed by an invite to the NCAA tournament eight days later on Selection Sunday. The Tar Heels defeating No. 1-seeded Baylor in Fort Worth in an unlikely theater – building a 25-point lead only to lose everything and need overtime to prevail – was another cause for celebration, but it It was after the Sweet 16's win over him at UCLA, an accomplished and rock-solid roster that the reality of a national championship run was in sight.
After treating St. Peter's Basilica as a No. 15 seed should be treated, UNC arrived in New Orleans with the mindset of a program that was in the Final Four more than any other program in the country and not like a No. 8 seed looked like doing what only Villanova had done before.
It speaks to the bond of this team that talks like this at the Sheraton on Saturday morning, acknowledging disappointments and celebrating successes, can take place before a Final Four rivalry game spans 83 years. UNC and Duke had played 331 NCAA tournament games together before Saturday night and never crossed paths. The Mike Krzyzewski era was ending, the Hubert Davis era was just beginning, and the college basketball world was the beneficiary with one more game in this legendary rivalry that somehow lived up to expectations before exceeding them.
There were 18 lead changes, including 13 in the last 17 minutes, and a slew of incredible plays, all of which deserve their own credit. The shot that will be remembered the most and is already cemented into "One Shining Moment" lore was Caleb Love's 3-pointer over the outstretched hand of ACC Defensive Player of the Year Mark Williams, UNC 25 seconds ahead Finished the clock with a 78-74 lead. Love worked off Black's screen at the top of the key, Duke switched screens, and the rest is legend.
It is relevant that Love and Black were the primaries at that moment. Love struggled through a difficult freshman season and then encountered a severe midseason slump before realizing he only needed moments of the clutch to thrive. Black, on the other hand, has endured criticism and injuries during his time at Chapel Hill, and while he's gone on to become one of the best defensemen in the country, his name will always be associated with one of the biggest hits in Carolina basketball history.
They served as a microcosm for this tar heel team, struggling at times but sticking with it and believing in better days.
"Just take the head down and grind," Black said. "I've done that my entire career. Obviously I've done badly on social media for the past few years. So my thing was just grind everyone."
As unlikely as the hike was, the accelerated rise of a selection of players to form a formidable squad over the past seven weeks has left this group wanting more. Several Tar Heels reiterated during their post-game press conference that while this win over the Blue Devils was satisfying on such a big stage, the task at hand is not over. A victory in Coach K's swan song is not enough. As one player has hinted, it's just a stepping stone to the team's ultimate goal: a national championship.
Earlier in the day, the Tar Heels reflected on their travels up to this point. When the last horn sounded, they were celebrating that moment right now.
"It will probably be a while before I settle down at the hotel," Davis said. "Just to relax my body and actually think about what we did today. Because, you know, we go down in history."