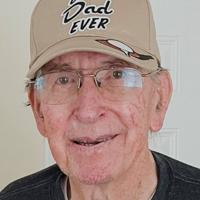 Online Obituaries | Obituaries | murrayledger.com
Gerald T Parker
Gerald T. Parker, 86, of Murray, Kentucky, died Wednesday, July 27, 2022 at the Oakview Nursing & Rehab Center in Calvert City, Kentucky.
He was in Murray on October 8, 1935 with R. Don Parker and Anna M. Barrow Parker.
He was a graduate of the Murray Training School Class of 1953 and later a graduate of the University of Mississippi School of Engineering Class of 1963 with a degree in Electrical Engineering and majors in Mathematics, Physics and Psychology and a minor in Chemistry. He also graduated from the US Naval Officer Candidate School in 1963 and the US Naval Destroyer School Class of 1967. He served as Lt. Cmdr. Retired Commander from the US Navy and served in both the Korean and Vietnam Wars from 1953 to 1974. He proudly served aboard the USS Prairie, USS Sperry, USS Lexington, USS Tattnall and USS Perkins. A former longtime member of Oaks Country Club, he loved his family and all things golf with all his heart.
In addition to his parents, he was preceded in death by his wife, Bronda Sue Lockhart Parker, who died on March 6, 2019; and by two brothers, Max Dale Parker and Rob Wayne Parker.
Mr. Parker is survived by a daughter, Sharon Lynn Parker Boulton and husband Jon of Paducah; a son, Thomas Ray Parker and his wife Lori of Powder Springs, Georgia; a sister, Kathye Fostine Parker Green and husband Clifford of Rockvale, Tennessee; a brother, Larry Gene Parker and his wife Judy of Murfreesboro, Tennessee; five grandchildren, Jason Thomas Goodyke and wife Detreous of Paducah, Ryan Thomas Parker and wife Jennifer of Kennesaw, Georgia, Patricia Lynn Horsley and husband Danny of Hiram, Georgia, Brandon Ray Parker and Ocoee of Roswell, Georgia, and Mallory Kate Strickland and husband Todd from Dallas, Georgia; and 16 great-grandchildren, Azlyn Michelle Goodyke, Preston Jay Goodkye, Makayla Noel Parker, Savannah Grace Parker, Peyton Catherine Parker, Holton James Thomas Parker, Saylor Faith Parker, Adam Lee Horsley, Anna Elise Horsley, Emma Rose Horsley, Sophie Lynne Parker , Maddie Rae Parker, Zoey Lane Parker, Price Kingsley Strickland, Tripp Thomas Strickland and Lacy Kate Strickland.
A funeral service with full military honors will be held at 1:30 p.m. on Saturday, August 6, 2022 at Murray City Cemetery, with Danny Horsley officiating. The funeral follows. The visit will take place on Saturday 6 August 2022 from 12pm to 1pm at the JH Churchill Funeral Home & Cremation Services.
Online condolences can be left at www.thejhchurchillfuneralhome.com.
JH Churchill Funeral Home & Cremation Services is responsible for the arrangements.
---
Sydney Hubbard
Ms. Sydney Hubbard, age 26, of Murray, KY, died Wednesday, July 27, 2022 at Jackson Purchase Medical Center in Mayfield, KY.
Sydney was born on April 12, 1996 in Murray, Kentucky to Patrick Hubbard and Melissa Duffy. She was a 2014 graduate of Murray High School and went on to Murray State University. She was a member of the Cedar Grove Baptist in Hopkinsville. Sydney will be greatly missed.
She is preceded in death by her brother Patrick Hubbard II and by her grandfathers JT Duffy, Jr., OD Hubbard and uncle Eric Hubbard.
Those who honor her memory include her mother, Melissa Duffy of Murray; Father Patrick Hubbard of Mississippi; a brother, Jorden Duffy of Murray; Sisters Taelyn Duffy from Murray, Megan Hubbard from California, Keelei Hubbard from Frankfurt, KY; grandmothers, Glenda Duffy of Paducah, Girtharee Hubbard of Mt. Olive, Mississippi; her uncle Kareem Duffy and wife Cami of Murray; a multitude of aunts, uncles, cousins ​​and special friends. She also leaves behind her beloved dog, Gizmo.
The funeral service for Sydney Hubbard is scheduled for Saturday, August 6, 2022 at 1:00 p.m. at the Heritage Chapel of Imes Funeral Home. Burial will follow at Murray City Cemetery. Her family welcomes visitors to the Heritage Chapel on Saturday, August 6, 2022 from 11:00 am to 1:00 pm.
Please join family and friends in honoring the life of Sydney Hubbard by visiting www.imesfh.com and posting your tributes and memories.
The Heritage Chapel of Imes Funeral Home is responsible for the preparation and all editorial content of this obituary.
---
Eva Sue Munley
Eva Sue Munley, 72, of Benton, Kentucky, died Thursday, July 28, 2022 at Murray-Calloway County Hospital.
The arrangements at the Imes Funeral Home & Crematory in downtown Murray are incomplete.
---
Mattie Frances Singleton
Mattie Frances Singleton, 76, of New Concord, Kentucky, died Thursday, July 28, 2022 at Baptist Health in Paducah, Kentucky.
Provisions at the Blalock-Coleman Funeral Home are incomplete.