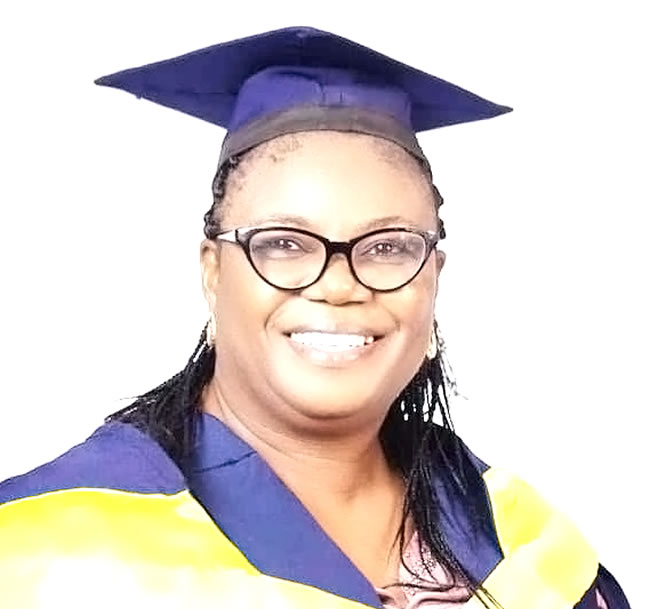 LAUTECH's Chief Nursing Officer is top notch in psychology and says that every challenge is an opportunity for growth
Joy Chinwe Onuegbu, Chief Nursing Officer at Ladoke Akintola University of Technology (LAUTECH) Health Center, recently received a First Class in Psychology. She also holds a Nursing/Midwifery Certificate, PGD and MSc (PhD degree) in Social Work. In this interview by KINGSLEY ALUMONA, she tells, among other things, why she needs a PhD scholarship, the dichotomy HND/degree, her work at the LAUTECH health center.
You did your first tertiary education in a nursing and midwifery school. Why didn't you go to university at the time or go to university right after your nursing degree?
I couldn't go to university at the time because I wasn't properly instructed professionally. We thought university education was for the rich and for the extraordinarily brilliant. When my husband proposed, I told him I wanted to study nursing and he helped me get the form. I went to the entrance exam and my career started. So I was already married before I got into nursing school and I had a baby while I was in school.
After my nursing school, taking care of the family became more important, combined with the fact that we had financial difficulties. The opportunity for a university education only came when I started working at the university.
How long have you been a nurse at Ladoke Akintola University of Technology (LAUTECH) Health Center and what is your current position there?
I have been a nurse at LAUTECH since October 1994 (now 27 years old). My current position is that of Nursing Supervisor and I have held this position since 2009.
With which training degree did you work as a nurse at the LAUTECH health center? How have you been getting promoted with your nursing card since then?
I was employed as a staff nurse/midwife with a Registered Nursing/Midwife certificate and my promotions have been like any other nurse to my current position.
They have a PID and MSc in Social Work. Why social work? And how has your degree in social work shaped your life and career?
In 2006, LAUTECH began conducting a PGD program in social work. I saw an opportunity to get a degree from the university I work at as I couldn't get a BSc in Nursing because I wasn't a science major in secondary school. A social work department also needed to be established in the health center that same year, so I figured I could transfer to that department after I finished the course, but before I finished the program, a junior worker was hired to run the position. I couldn't apply again for a change to the social welfare office, because I was already far ahead of the department head in my position at the time. So after completing the PID, I felt the need to pursue my masters in the hope that opportunities would arise for me to use the certificate.
In terms of how the degree has shaped my life and career, I have come to understand that social work degrees teach students how to improve the well-being and quality of life of vulnerable people such as children, youth, the homeless and minorities. Students learn how to support people in need and empower them to take action and solve their problems. The larger percentage of students at the university are adolescents and we always have adolescent health and behavioral issues such as drug addiction, mental health and mental health issues, violence and other vices.
So, knowing about social work has helped me to understand the social predictors of health and illness behaviors and how to care for the vulnerable within the university community. In fact, every nurse cares about the social wellbeing of their patients, and my social work degree helps me to do this with ease.
You've decided to pursue a PhD, but the university you applied to rejected your application because you don't have a bachelor's degree. How did that make you feel?
I was about to apply when I found out about the First Grade Challenge. Well I wasn't happy. But every challenge is an opportunity for growth, and that's what drove me to pursue a degree in psychology.
With your age and tight work schedule, how did you manage to graduate with a first class degree in psychology? And why psychology instead of nursing or social work?
God made it possible for me to graduate with a first grade. I don't see my age as a problem when I'm studying. After all, aging takes place in the mind. God gave me the strength, determination and grace to strive for and achieve the best.
Why I chose Psychology over Nursing As I said before, I wasn't a science student in high school. I only had biology when I got into nursing school. Physics and chemistry weren't compulsory admissions back then, but you'll take them as courses in nursing school and you'll have to pass them in the first year before you're promoted to the next level. So I couldn't go to nursing school. Additionally, my next promotion will take me to an administrative position, so I jumped at the opportunity to study psychology as it is a major that deals with understanding human behavior and organizational culture and management.
The goal is to understand why people behave the way they do, what motivates or drives them to do their best at work or otherwise, and how best to manage them. I think it will be useful in the future too.
You said you want a broadly sponsored PhD scholarship. Why do you need a PhD? At which foreign university would you like to do it and why exactly at this university?
I need a PhD because completing a PhD can give you a great sense of personal accomplishment and help you develop a high level of transferable skills that can be useful for careers and help develop knowledge in your chosen field . I know I have an intrinsic motivation for self-actualization and I believe no knowledge is wasted. I'm sure it will be needed in the future by God's grace. I am hoping for a scholarship abroad because I believe it will give me a chance to meet people from different cultures in a better study environment.
The question of which university I would like to apply to; I haven't applied to any foreign university so far, and I don't have any in mind either. I'm still looking and have yet to make a decision.
Have you spoken to the university you work for, the government or any other organization about your interest in, and possible funding from, a PhD?
I have not made any contact or application for sponsorship. A lot of things happened over the year that made me take a break. But I will start an active search for sponsors to make my PhD dream come true.
If you are lucky enough to get the fully funded scholarship, what research area/discipline would you like to explore and why?
I will enjoy studying social psychology and exploring how social experiences such as stress, social status, social support, discrimination, etc. affect physical and mental well-being. I would also like to address interventions aimed at improving health behaviors. Young people and reproductive health issues will also be an area of ​​interest.
There is a bill in the National Assembly that seeks to end the dichotomy between HND and diplomas. Are you for or against the bill?
Opportunity and opportunity sometimes lead people to choose either an HND or a bachelor's degree. Therefore, people should not be discriminated against or stagnated in their careers based on whether they are HND or college graduates. But that's my opinion.
What are the three challenges faced by nurses at the hospital you work in and how would you like LAUTECH management/Oyo State Government to address these challenges?
First, the shortage of staff at the health center is a major concern for nurses. They should hire more nurses.
In second place are workplace hazards, workplace violence, bullying and harassment by students. Standard security measures should be taken. I also think that proper guidance will help students know how and where to direct their grievances and grievances rather than taking their anger out on the staff.
The third is the non-representation of nurses at political/decision-making tables. We want our voices to be heard through better representation of nurses at the political tables.
How do you deal with work stress? And how does your family help?
Work environment and work stress are managed by God's grace. I plan my day, do my best at work, and surrender the rest to God. I try as much as possible not to let the problems at work affect the emotional environment at home. God also gave me the grace to balance church life, work life, and family life in such a way that neither affected the other so negatively.
I have a very supportive husband and family members who help. They are also my sources of strength after God. So I can say that I have a very strong social support.
What advice do you have for women who aspire to be like you?
Be determined to follow your heart and do your best for what you want to do. Trust in the Lord with all your heart, and He will fulfill the desires of your heart. There is no limit to what a determined person can achieve.