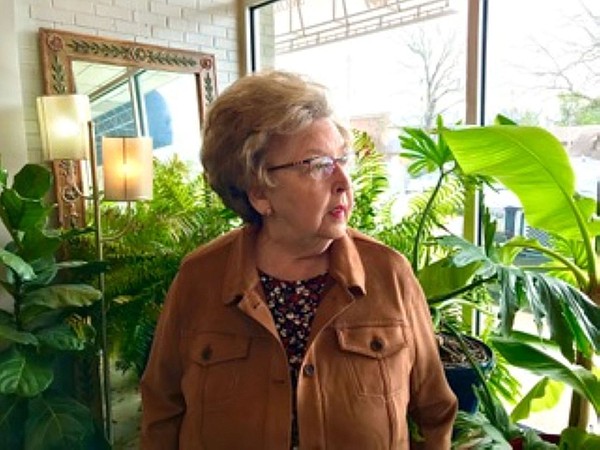 Her social work improved care for rape survivors
Mary Lindsey is equal parts comforting and wild, and she's embraced both approaches as a retired social worker.
Throughout her career, Lindsey, 80, has helped and comforted abused children and hospital patients, and she made a difference in the way rape survivors are treated.
From an early age, she wanted to be a nurse and follow in the footsteps of her maternal grandmother, who ran the infirmary at Arkansas Polytechnic College, now Arkansas Tech University in Russellville. However, observing emergency measures made her feel uneasy.
She instead majored in psychology and sociology, finishing college in 3 1/2 years, although she insists it was not a sign of academic ability.
"It had to do with how poor my family was and I needed to get through college as soon as possible," she says.
Her father was a qualified welder who would read her science fiction books before bed, including Jules Verne's 20,000 Leagues Under the Sea. She and her older brother played outside on summer evenings and spent the weekends with cousins ​​on their grandparents' farm.
Friends and neighbors would often gather at the farm for barbecues using the family's barbecue recipe.
"I grew up playing in a barn with lots of cats. There were cows, horses, chickens… it was the best of all possible worlds, growing up in a college town but being on the farm all the time," she says.
Her psychology professor at Arkansas Tech, aware that opportunities were limited for those with a bachelor's degree, encouraged her to become a social work intern with the Child Welfare Department.
The work was overwhelming at times.
"I quickly took on a caseload of about 150 children in foster care, and I've never had anyone close to anyone who was abused or sexually harassed. It was all quite a shock for me," she says.
She worked for some time at the Arkansas Employment Security Division and then as an assistant director of human resources at MM Cohn before earning her Masters of Social Work from the University of Arkansas School of Social Work in 1974.
At St. Vincent Infirmary, she worked in medical consulting rooms and the ICU, eventually developing the role of on-call social worker in the ER.
She noted that many of the hospital's doctors weren't sure what role social workers might play.
A chance meeting with the chair of the Department of Family and Community Medicine at the University of Arkansas Medical Sciences in 1977 was the beginning of her 33-year tenure there.
"He said to me, 'Do you want to keep doing this? Or do you want to come and train doctors how to use social workers?' Wasn't that cool?" She says.
After a co-worker's 19-year-old daughter was kidnapped from her home by a serial rapist, Lindsey escorted the teen to the emergency room.
When the rapist was caught, she says, "I helped the district attorney select a jury, and then I sat with her at that trial until she went into the courtroom and testified."
Lindsey was later appointed by the then governor. Bill Clinton to the Governor's Task Force on Rape.
Rape survivors across Arkansas at the time had to go to the UAMS for investigation and evidence collection. Through the task force, Lindsey helped develop a program to train family doctors so they could screen these survivors closer to home. These efforts resulted in her receiving the 1985 Uppity Women's Award from the Arkansas Women's Political Caucus.
For 17 years she was Director of Continuing Medical Education in the UAMS Division of Family and Community Medicine. She expanded the medical education program from a half day to a 3 1/2 day program.
After retiring in 2008, Lindsey worked with her husband, Bob Burns, Professor Emeritus in the UAMS Department of Neurobiology and Developmental Sciences and Director of the UAMS Partners in Health Sciences program, which provides pre-kindergarten health science education through Year 12 teachers.
She and Burns like to travel when they can.
Exploring the world was an early dream of Lindsey, who shared with her mother that she planned to be in Rome when she was 25. She was 26 when she got a Eurail pass and toured Europe with a friend.
She leads a travel class through the non-profit organization LifeQuest and coordinates virtual tours of Trier, Germany; Sitka, Alaska; Amsterdam and other places.
She and Burns love gardening, fishing and spending time at their vacation home near the Spring River. She has found solace in nature for years.
"There aren't many people around and it's peaceful and quiet," she says. "I can just feel the tension falling off my back during these phases."
Reflecting on her life of caring for others, Lindsey reflects on whether health workers today are finding outlets for the stress they have suffered from the pandemic.
"They're dealing with a lot of deaths and coming at them in one shift. There's so little to no recovery time for them," she says. "My cases were scattered and I had colleagues to discuss and work with and we had some time to recover. Not so with what is happening now."
If you have an interesting story about an Arkansan 70 or older, please call (501) 425-7228 or email: