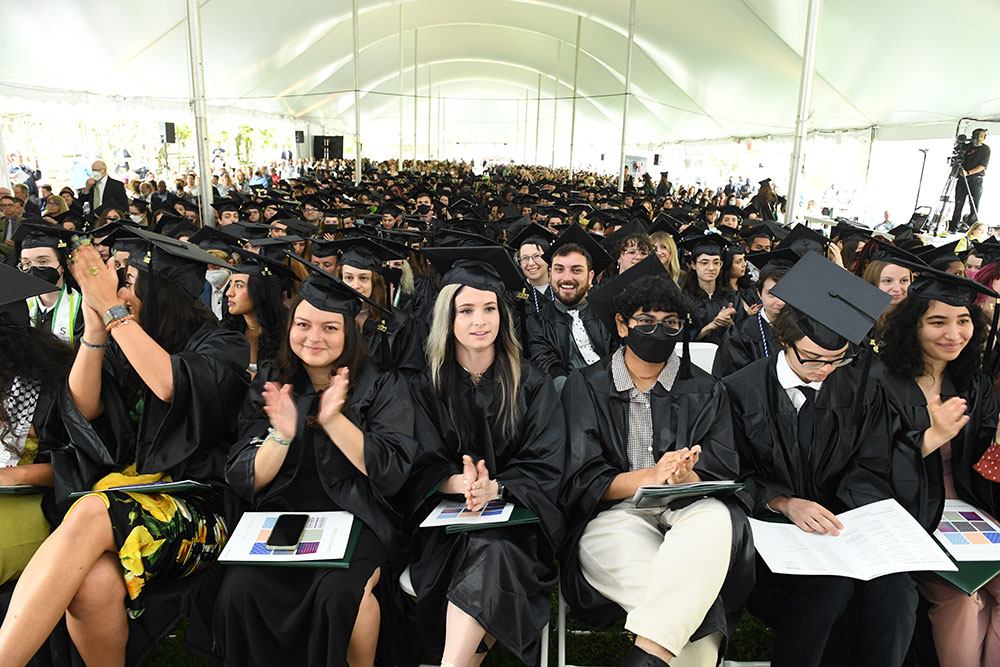 From the President's desk: May 2022
Dear members of the Sarah Lawrence Community,
Shortly after the beginning I started working on it From the President's desk, eager to share with you the joy and celebration we have all experienced. But in just the few days that intervened, we witnessed the unspeakable violence of the Buffalo massacre, the murder at a Taiwanese church in California, and now, yesterday, the Uvalde school shooting. And I am writing to you on the second anniversary of the killing of George Floyd, as many fear we have lost momentum on the racist reckoning that his killing appears to have sparked. Earlier today, Ifeoma Kiddoe Nwankwo and members of our Diversity, Equity and Inclusion team wrote to students, faculty and staff to share resources on how to deal with it, how to help and how to come together to plan ways to make it happen Getting involved and taking action can make a difference.
As we grapple with the incalculable impact of these tragedies and what we must do to address their root causes, I want to share this letter with you as I wrote it when it began: especially for this year's graduates — as well as those of 2021 and 2020 who have joined us on this day – The beginning was a particularly significant moment after they and everyone who supported them reached this milestone. I hope that together we can help these newest alumni hold on to their achievements and their plans for the future, even amid the challenges that surround and threaten to overwhelm us.
At the beginning I closed my speech to the graduates with the following accusation based on our mission statement:
[A]As a citizen of the world, live the promise of your Sarah Lawrence education. …Do this not only so that you may thrive yourself, but to lead the way so that all may thrive in this world that needs everything you are so uniquely willing to bring now more than ever.
I hope and trust that all members of the Sarah Lawrence community, not just our recent graduates, will continue to embrace this mission during these challenging times.
***
I am writing to you from a very beautiful but very quiet campus just a few days after the college celebrated its 94th founding. Many of you – students (now our newest alumni!), families, faculty and staff – were on campus for this happy occasion, and more of you – more than 1,200 to be exact! – joined the celebration from around the world via our livestream.
Our first personal start since 2019 went smoothly, mainly thanks to our dedicated employees. This year's ceremony was our largest as we merged our undergraduate and graduate classes and welcomed back members of the classes of 2021 and 2020 to attend if they so wished.
As I said in my remarks at the opening of the ceremony, this year's beginning was a long-awaited and awaited day, and it was a day full of great and varied emotions. While no one has missed the gravity of the past two years, nor the importance of finally being together again, I can say with confidence that the overwhelming emotion throughout the day was joy.
We have a full summary of the graduation ceremony available online and I hope you will browse the photos and videos of the day, whether you want to take a walk down memory lane to your own graduation or look forward to this upcoming milestone. We were delighted to have two special guests with us this year. Our speakers were noted historian and best-selling author Douglas Brinkley, and author and activist Jennifer Finney Boylan – now Dr. Jennifer Finney Boylan! – was awarded an honorary doctorate before addressing the graduates. We also have photos and a full video from our Graduate Hooding Ceremony which we held on May 12th to focus solely on our graduate students and their achievements in pursuing advanced degrees.
My congratulations once again to the Class of 2022 and to the families and friends who have been so unwavering in their support throughout their journey to this moment.
***
Inaugural week has a knack for really putting the spotlight on what is at the heart of a Sarah Lawrence education – the student-faculty relationship. From the Senior/Don dinner (a full gala this year at the Barbara Walters Campus Center!) to the rousing ovation the students gave the faculty during the inauguration, the importance of those relationships is fundamental. So I'd like to take a moment to share some faculty news with you.
I am pleased to announce that Physics Faculty Member Merideth Frey has received a permanent position. Merideth has a BA from Wellesley College and a PhD from Yale University and joined the SLC faculty in 2016. Last summer, she and chemistry faculty member Colin Abernethy received a grant from the National Science Foundation as part of their Improving Undergraduate STEM Education program. The grant supports the work of Merideth and Colin in the field of science education with a focus on magnetic resonance. Merideth is passionate about diversifying the field of physics; She has served on the college's Diversity, Equity, and Inclusion Committee and has given presentations on her strategies for inclusive education at American Association of Physics Teachers meetings. This fall, we welcome two new talented tenure-track faculty members: Leana Hirschfeld-Kroen, who will join our Film Studies faculty, and Vera Ilatova, a long-time member of our visiting faculty in Visual & Studio Arts (Printmaking). In Fall 2023 we will welcome three new tenure track faculty members: Veeshan Narinesingh (Physics), Jean Shin (Visual & Studio Arts – Sculpture) and Samantha Floyd (Psychology).
Earlier this month, as you may have seen on our website or social media, we celebrated members of our faculty who retired at the end of this semester, as well as those retiring in 2021 and 2020. This year's retirees were: Michael Davis (Faculty of Arts since 1977), Joseph Forte (Faculty of Art History since 1978), Priscilla Murolo '80 (Faculty of History and Women's History since 1988), Barbara Schecter '74 (Faculty of Psychology and Child Development since 1985), and Charles Zerner (Faculty of Environmental Sciences). since 2000). Each of them left an indelible mark on our college and community, and I am grateful to them for their decades of service to SLC.
Finally, on May 17th, we celebrated the life of Ilja Wachs, who passed away on April 17th at the age of 90. Ilya was a respected and honored member of our literature faculty and a central figure in our community since 1965. More than 100 families, friends, alumni and colleagues gathered on campus with Ilya's children Josh and Katti to remember a man who was nothing short of iconic as we finalized the naming of the portion of Andrews Terrace in front of his office, 'Ilja's Corner " announced. If you haven't already, I encourage you to read this tribute to Ilja by longtime colleague and friend Carol Zoref '76, MFA '97 and share your own memories of him.
Yours,
Cristle Collins Judd
president
[email protected]
Instagram: @slcprez
---
Faculty News
The news in this issue only scratches the surface when it comes to the achievements and awards of our faculty. Visit the News section of our website to see the latest faculty headlines.
See you 2022
Reunion is just over two weeks away and we are very excited to welcome alumni back to campus. The June 9-12 reunion weekend is a great opportunity for alumni of all ages to network with each other, faculty, staff, and current students—and me!
On Saturday morning, June 11th, I will present my annual review, after which I will have a chat with author Amanda Foreman '91 about her upcoming book. The World Made by Women: A History of Women from Apple to Pill. This event will be hybrid, in-person and online, and everyone is welcome to register.
The Fund for Sarah Lawrence
As the semester ends, so does the college's fiscal year, meaning now is an important time for support The Fund for Sarah Lawrence. Please consider making a donation by May 31st to immediately support our students, faculty and this unique education.
---