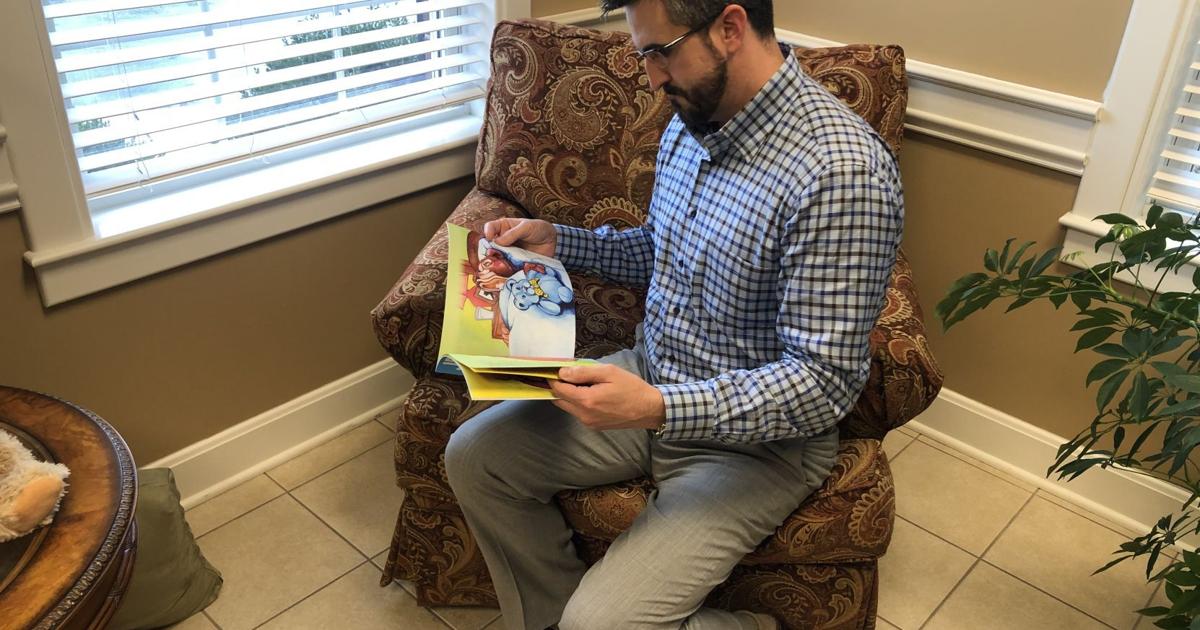 coping with grief | features
Kentucky has the fourth most children in the nation who are grieving the loss of a loved one, making it imperative that grief services engage children in ways they can relate to and visualize, according to Caleb Potter. Bereavement Coordinator for Hospice and Palliative Care in Western Kentucky.
That's exactly what Potter did with his Caring Bears book series. The books guide children through the story of a character experiencing loss and explain how to cope with the loss of a loved one.
Potter is certified in thanatology, which is the study of death, dying, and grief counseling. He is also certified by the Association of Death Education and Counseling.
He has worked with the hospice for 10 years, eight of those as a grief coordinator, where his services are offered free of charge to the community for those who have suffered a loss.
During his time as a grief counselor at the hospice, Potter said he worked with a significant number of children who have suffered loss. He noted that they seemed to lack resources on the subject.
So Potter decided to create his own resources to help children cope with grief.
"Kids are much better at connecting to storylines than to abstract information, as counseling can sometimes be, and so to be able to see pictures, see emotion on characters' faces… to see how hard." to see the loss impact a character in a story and to see how a kid feels in and of itself is really impressive," he said.
There are two books in the series, one about the loss of a grandparent and lastly about the loss of a parent. Potter said there were plans for more books that would focus on the loss of a sibling and a classmate, as well as other types of loss such as relocation and divorce.
The books guide readers through the loss of the main character and how they coped with it. In the book about the loss of a parent, Potter said, readers will learn how the main character, Jenny Bear, experiences her father's diagnosis of terminal cancer, his struggle with treatment, and his death.
At the end of the book is a question guide that directs readers to specific parts of the book and encourages them to use their individual experiences instead of Jenny's.
"It gives them a chance to fit into the story," he said.
Potter said that much of the loss experienced by children in Kentucky is related to drug use and incarceration.
"Our incarceration rates in Kentucky are higher than anyone else's. So in these cases the child is placed in foster care or possibly with a grandparent and the grandparent now becomes the functional parent but of course the grandparents as they are older are more likely to be exposed to terminal illnesses so their functional parent is dying now, while their biological parents are incarcerated," he said.
Grief counseling and learning to cope, Potter said, give children a chance to see that they are not alone and normalize what they are going through before giving them tools for healthy coping.
"It can challenge us on pretty much every front in our lives, spiritually, emotionally and physically, and if children aren't taught to grieve well, to grieve transparently and openly, then they can try to keep all of it, and this one." Pressure will typically build to a point where it will manifest itself outwardly, typically in a negative way," he said. "It can make them suffer at school because of their academic performance, it can cause them to become detached from family and self-isolate. Often we will see a loss of interest in hobbies and extracurricular activities that they used to be really passionate about.
"It can be a big crossroads for a child when they don't feel they have good opportunities to grieve well."
Potter said there are several ways the hospice works with children in the community to help them cope with grief.
Potter said he regularly works with schools to train administrators in peer-to-peer support for children and works with individual children to receive counseling related to a loss they have experienced.
"Kids really benefit from speaking to other kids where a loved one has died, so that peer-to-peer connection is vital, so we're trying to help school systems recognize that," he said.
Potter said the hospice will host its first nightly bereavement camps in August.
He said he also works with many children individually to offer counseling.
He said the goal is for the hospice to open a bereavement center where counseling and support groups can be held to provide a sort of hub for bereavement services.
"We are in many ways at the forefront of the needs of childhood grief," he said. "Right now, what we're doing can feel a little bit broken at times. It would be nice if all of this was centralized in one place with room for groups and training – a place that everyone knows: "This is where I go when our family has been through a tragedy and my child really needs help."
"That's what we want to be. We're not quite there yet; this is something we dream of."