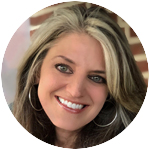 A "sunny kid" from Ukraine lays all hearts open – Catholic Philly
By Gina Christian • Posted on July 15, 2022
Something both ordinary and extraordinary happened earlier this week: a young mother was walking down a city street with her four-year-old daughter on a bright summer morning, filming their journey on her phone while the girl, who had Down syndrome, proudly pushed her own stroller.
With her soft blonde hair pulled back in a ponytail, the child — dressed in white leggings and a denim shirt — strode with anticipatory energy: she had a speech therapy session scheduled. When they arrived at the special education center, her mother posted a picture of little Liza poring over pictures of worksheets.
These everyday moments were the kind that proud parents would capture. In fact, Liza's mother, Iryna Dmitrieva, filled her Instagram account with pictures of her "little angel" and even shot a video of her daughter twirling through a lavender field in a lilac ruffled dress.
But three Kalibr missiles destroyed all of that.
On July 14, Russian forces on the Black Sea fired on Vinnytsia, a city in central Ukraine, killing 23 and wounding 90, with 39 still missing at this time.
Among the dead were three children, including Liza. She was found sprawled behind her overturned stroller, a severed foot over her head. Iryna survived but suffered serious injuries. The wounds of her heart are certainly even more severe.
The Russian Defense Ministry claimed its objective was military and ignored any mention of the children's deaths – an unsurprising omission for an authoritarian regime waging a textbook genocidal war against the people of Ukraine.
When the crew of the Russian submarine fired their missiles at Vinnytsia, world leaders met in The Hague to "ensure that war crimes committed during the war in Ukraine do not go unpunished."
Some have suggested that the timing of the strike in Vinnytsia was intentional. In fact, Russia fired on Kyiv on April 28 during a visit by United Nations Secretary-General Antonio Guterres.
In an all-too-real sense, the attack on Vinnytsia was just routine retaliation for the attacker, who describes the war as a "military special operation" with a daily changing list of insidious justifications – like the extermination of non-existent neo-Nazis in Ukraine and Ukraine NATO expansion while renaming Russian President Vladimir Putin a tsar and expanding the borders of his deranged nation as far as his delusions require.
Unlike her attackers, Liza – despite her arthritis – walked with a firm will and flawless grace. After all, she was a "sunny child," as Ukrainians sometimes describe children with Down syndrome. Her purity of spirit shone in her eyes and in her smile; Their place in heaven is assured – a conclusion we cannot draw for their attackers or for ourselves if we allow them to continue their relentless slaughter of the innocent.
***
Gina Christian is Senior Content Producer at CatholicPhilly.com, host of the On the CatholicPhilly.com podcast and author of the forthcoming book Stations of the Cross for Sexual Abuse Survivors. Follow her on Twitter at @GinaJesseReina.